Chappal (Slipper) Making Business Plan Investment Profit
Slippers are commonly used in every household. Mostly made by rubber, slippers are being used for regular and rough use at home. With the increase in using slippers at home and sometimes outside, many manufacturers from different regions of the nation are setting up a slipper-making business. This is a profitable business and requires comparatively less investment.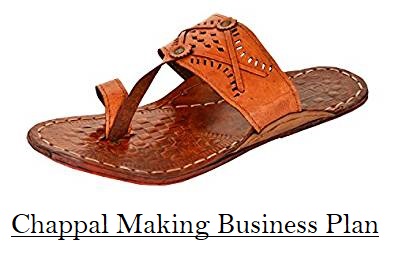 Chappal Manufacturing Process
Slipper (Chappal) making process needs some steps and of course raw materials. To cut and shape the slippers the manufacturer needs machines. Alongside proper essential raw materials are needed. There are few steps that can be followed.
Step 1: Buy essential raw materials, install the machines and hire one or two labors to assist you in the manufacturing process. This does not need someone very skilled as the machines do their job.

Step 2: The rubber sheets are needed to be cut in shape. There must be 9 sizes, from 1 to 9. Set the sizes on the machines and cut the sheets according to the sizes. The straps will also need to be cut in proper shape and size.

Step 3: Drilling machines are needed to make the holes on the slippers. The drilling machines will make the holes and then put the straps on to those holes.

Step 4: After this slippers are needed to be printed. The company name and the size should be printed on the slippers. You can print the slippers before going through the hole and strap process as well.

Step 5: Once the paint is done the slippers are needed to be dried so that the print does not get damaged. Dry them overnight and then start with the packaging process.

Step 6: Pack them properly with the proper packaging process. The slippers are now ready to go to the market. Once the packaging and all are done, ship them to the market for consumer trading.
Material and Cost for Making Chappal
Two parts of materials are needed for the slipper-making business. One is the raw material for slippers and the other part is packaging materials. In the case of slippers, rubber sheets and straps are needed. For the packaging material, there are plastic, cardboard boxes, and cartoons are needed to be packed safely for the market.
These materials are easily available online. But make sure to pick up good quality products while buying these materials.
The rubber sheet for the slippers' costs is different for different materials. Generally, it costs between Rs. 300/- per sheet to Rs. 450/- and more for each sheet depending on their material and quality. Straps for the slippers are also available in the retail or wholesale market. The straps can be of different types. The fabricated strap laces come at Rs. 4/- to Rs. 8/- per meter. If you want to have rubber straps then it costs Rs. 75/- to Rs. 100/- per dozen depending on the quality of the product.
Slipper-making business, as mentioned, needs less investment. To start this business at a large level or to yield a higher amount of output, manufacturers need nearly Rs. 5 to 6 Lac. With medium size investment, large scale business can be started. On the contrary, those who are willing to start it with small output will have to spend at least Rs. 1 Lac for the business setup.
Slipper Making Machine
Slipper-making businesses need a number of machines to start up. Firstly you need a Sole Cutting Machine. These machines are used to cut the long rubber sheets into pieces following the perfect shape and size. These machines are hand-operated.

After that, a drilling machine is needed for the holes in the soles. That is drilling machines are used to make holes in the slippers. Some of the drilling machines can put the straps into the holes.

Not all drilling machines are capable of fixing straps. To fix the straps you can use hand tools. They are easy to use and do not need much skill. Through these hand tools, the straps are being fixed tightly to the sole.

Finally, you need a finishing machine. Finishing machines cut and shape the slipper and the straps in a proper way. If you are using automatic machines then finishing will be done by a single machine only.

Other than these machines there are some dies like shape and size dies that are required for slipper making business. These dies can be fitted to the machines you are using for the cutting. High-quality machines have their dies with them, some of the low-quality machines do not have the dies, manufacturers have to buy them and fix them separately.
Where to get Machines and Its Price
Machines are available in online as well as offline stores. Dealers who deal in heavy machinery can have these machines. In the case of online stores, there are many websites that deal in slipper-making machines. Anyone can check them online. Also, the specifications and the capacity of such machines are being mentioned on all these websites.
These machines cost differently based on their quality and capacity. Basic machines that are used to cut the soles are priced from Rs. 18000/- and more. These machines can't do anything other than cutting and shaping the soles.
If the manufacturer wants to use high-quality automatic shoe-making machines, then they come at a price of Rs. 1 Lac and more. Some of the machines cost Rs. 2.5 Lac depending on how well they can serve. These expensive machines are used to manufacture any type of shoes not just slippers. These machines can be used as finishing machines as well.
Packaging Process
The packaging process for the slippers needs a few simple steps. Firstly you need plastic bags or covers to pack the slippers. Get these sheets or plastic bags from the market, you can stick your company logo on it or leave it like it is.
After wrapping the slippers in a plastic packet, pack them in a carton box. Also, you can use company stickers or logos on the carton box to show your brand name. Now, you need a big cartoon box to pack a lot of slippers and to send it to the market or to the retailer. All these packaging materials are easily available in the market.
License Process
Slipper-making business comes under small-scale industries. So it is necessary to register the business under MSME. Also, there are some other license and registration processes related to this business. It is mandatory to issue a trade license and registration with RoC (Registrar of Companies) to set up any business. So the manufacturer requires to register his company as well as issue a trade license to start manufacturing and selling his products.
While registering with RoC, registering as LLP or OPC would be preferable for this type of business. Finally, if you are using your own brand name for the slippers then copyright on the brand name has to be issued from ISI by the manufacturers.
Slipper Making Business Cost
As mentioned above, the slipper-making business needs a total of Rs. 1 to 2 Lac to set up a business. Apart from buying raw materials, machinery, and packaging materials, the business needs a handful of workers. The machines used in making slippers don't need skilled workers to handle them. They are less complicated and need few workers as they aren't automatic machines.
On the other, if the manufacturer is not using drill machines or strap fixing tools then they might have needed more workers for fixing the straps. For that Rs. 30,000 more can be added to the cost of the slipper-making business.
Profit Margin
Slipper making cost is Rs. 30/- to 40/- per piece and the selling price of these slippers is Rs. 100/- and above. That means per slipper a manufacturer can earn at least Rs. 60/- profit. If the setup is smaller for the manufacturer then with a low-quality machine he can produce at least 100 dozens of slippers at a time. That counts at least Rs. 60,000/- and more profit margin for the manufacturer.
Generally in slipper making business, if there is a small setup, Rs. 10,000/- to Rs. 20,000/- profit has been seen at the end of the month. If there is a huge setup for the same business, manufacturers can earn Rs. 40,000/- and above for a month.
Marketing Strategy
Slipper is one such thing that is used by almost every household. Chappals or commonly Hawai slippers are being used largely by every section of society. It is obvious that there must be many manufacturers who are in the same business. So the marketing strategies must be unique for you to attract more customers to your product or business.
Firstly it is important to market the product as much as they can. It can happen through advertisements or offers (discounts) and so on. The manufacturer has to make sure that the product gets maximum exposure in the market so that people come and buy your product.
Target Area for Marketing
As slippers are being used by every household, the targeted area can be any locality. Apart from local markets manufacturers can market their slippers in malls or large departmental shoe stores as well. Before selling the products the manufacturers have to advertise their slippers and make them popular.
To make it more popular manufacturers can use advertisements such as local newspapers, leaflets, kiosks, banners, and hoardings. For indoor advertisements, radio channels or television ads can make a lot of difference.
Precautions
The first thing that must keep in mind while setting up a slipper-making business is space. Slipper-making machines need a lot of space to be installed. As mentioned that different types of machines are needed for the slipper-making business, they need a lot of space as well. So the manufacturer must take care of the space he is using for his business.
Risk
The biggest risk associated with the slipper-making business is the quality of the rubber that is being used. There are different types of rubber sheets available in the market. Various low-quality sheets which are less costly are available as well. Make sure not to use them when making sandals or regular chappals. These low-quality rubber sheets get damaged easily and are not weather sensitive. While using the rubber sheet make sure to get the best quality rubber sheets for the sole of the shoes or slippers.
Slipper-making business is one of the most common and profitable businesses in India. As mentioned above to start this business people do not need a high amount of money. Within Rs. 1 or 2 Lac, anyone who has ample space can start their slipper-making business.
Other