Ola Cab Business Model, Strategy, Plan, Investment, Inquiry, Profit, Opportunity, Earn Money
With plenty of online transport companies, cab booking has become an easy affair. You can start this business by joining with the cab companies.  This way, you can start the business and earn good profit. As there has been an increase in the booking of cabs online, you will have to cater to demands of online cabs which are high most of the time. The following part of the article shall take you through some of the other details of starting the business.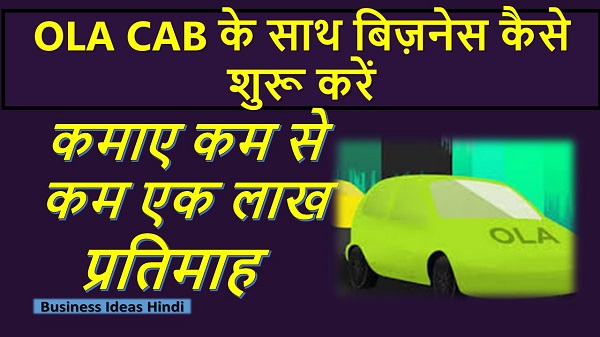 What is the business of Ola Cab?
There are many cab companies operating in India and one of them is Ola that is doing good business these days. The online transportation company is managed by ANI technology Private Limited. With its headquarters at Bangalore, it has gained good popularity over time. The Ola cab service is available in almost 103 cities. Each of the cities has their regional offices and there is an increase in the number of customers opting for this mode of transport. 
Click here to know about Best Transport Business Startup Plan at Small Investment.
How the right business plan can help in the business?
It is important to know about the details of the business before you start with the business. Three types of business plans are given below.
Driving your car – You can start by driving your car and earn money. Connect the car with Ola Company and start earning money by offering service to the customers.
Placing a driver and asking him to ride the car –If you own a car, you can make money by renting your car. For this, you have to find an experienced driver who will drive the car and provide service to the customers. Here also, you can join with the Ola Company and get a driver. Here, you will be paying your driver that the service he provides. This kind of business is known as a fleet operator.
Driving with a partner –If you know how to drive but do not have your car, you can become partners with big driving companies. Here, you can also opt for a car lease from the company. By this, you can serve the customers and earn money. From this, you have to pay commission to Ola Company.
What are the benefits related to Ola Cab business?
If you start the business, it shall offer a lot of benefits, and some of them are given below.
If the driver is facing a problem with the business, they can get in touch with the customer service team of the company.

You can choose the area where you wish to go and offer a car service to customers.

One can get a profit of almost rupees 1 lakhs to 3 lakhs every month.

When the customers are paying by joining Ola, they can get good service. For this, you need not approach the customers to get the payment.

The process of payment is an easy one and transparent to keep the system smooth going.
Documents required for starting Ola Cabs business
The list of documents given is important for starting the business and it should be produced at the time of registration.
Documents for drivers – If you register with Ola Cab and get a driver for your car, it is important to have a commercial license, yellow plate, identify proof, address proof and other documents.
As a car owner – When starting the business with your car, you have to furnish items like PAN card, Aadhaar card, bank statement or passbook, cancelled check for relevant bank information. Along with this, you have to provide permanent address details required for registration.
Car documents – Proper car documents should be offered at the time of registration. In this case, RC copy of the car, insurance details and permits of car, pollution certificate along with a fit proof certificate of car.
Click here to know about how to start a Car Driving Training School Business.
How to get started with Ola Cab and start a business?
You can get attached with the Ola Cab in two different ways that are mentioned below.
Offline process of cab registration
In order to start with Ola Cab business, you have to attach the car with Ola and furnish the necessary documents to the regional office of Ola Cab near you.

For this, you have to start by filling up an application form and submit it along with other necessary documents that are required for car registration.

The Ola Cab office will check the documents of the car and its condition.

Only after proper verification, the service person at Ola shall help you know about how to access the application. You have to follow the guidelines and you can get complete training to start with the business.

After training, you have to sign with the trade contract. Also, you must have a current bank account which is required to start this business.

Once the contract is signed, the company shall offer you device through which you can get the customer's booking. It is a smartphone device that should be used for Ola Cab service.
This way, it becomes easy to get connected with the Ola Cab and start earning money.
Through the online mode of registration
You can also apply from home for registration for starting business with Ola Cab. For this, you have to go through the official site of Ola Cab.

Through the site, you can get access to the registration form. You have to enter correct information about the car in the form and fill it up.

Following the submission, you will be updated by Ola and you will be asked to visit the office along with relevant documents.

Now, when you visit the office, you have to check the documents and car. After this, you have to follow the same steps as through the offline mode.
To start a business as a fleet operator, you have to go through the following steps.
You have to register in Ola as fleet operator and attach the required documents, driver information along with the car as it is required during registration.

In case, you do not have drivers, Ola will provide you with the driver, but they cannot guarantee to provide the driver.

Once the car and driver have been verified, you and the driver can get information about how to use the Ola app as a fleet operator.

Following this, you have to open a current bank account through it will be easy to manage driver's salary, including other Ola payments. However, this should be a single operator account when running the business.

After following the steps mentioned above, you are part of the fleet operator, and with your Ola Cab, you can easily start the business.
Click here to know about Bike Agency Business in India.
How to lease a car from Ola Cab and start?
If you do not have your car, you can start with the business by taking a car on lease. For this, you have to go through the following information.
After you follow the steps of applying for car lease, you have to deposit rupees 4000 as verification fees which is nonrefundable.

Along with this, you have to pay security fee which ranges from rupees 21 thousand to rupees 31 thousand which is refundable. The fees will vary depending on the car that you wish to take on lease.

Also, you have to pay rupees 700 to rupees 1150 daily as it shall depend on the type of car you have taken on lease. This will get reduced from your total earning from the car business. However, you can consider the rest of the money as your profit from the business.

After verification of documents and deposit of security money, you can get the car on lease along with suitable training on usage of app and starting the business.
Therefore, you have to ensure that the leased car has been registered properly with the company name of 'Ola Feet technologies.'
How can you use bike under Ola Cab?
Similar to joining the car with Ola Cab, you can use a bike for this business. For this, you have to choose the name of the bike and also select the type of vehicle. This is same along with registration procedure given above. So, by following the simple steps, you can attach your bike with Ola Cab and start doing business.
Car selection process from different categories of car
Ola Sedan – If you wish to take cars like Swift Dzire, Maruti Swift Dzire and the like, these will fall in the sedan category.
Ola Prime – Some cars like Ertiga, Mahindra XUV and Toyota Innova fall in the category of Ola Prime.
Ola Mini or Micro –Cars like Maruti Suzuki Ritz, Celerio, Micra, Vibe, Indica and the like fall in the category of Ola Mini or Ola Micro.
Other than this, there is also the category of Ola Auto with which you can attach your auto rickshaw. Under Ola share, you can share the car with other cabs. Even there is Ola rental in which you can start the business by offering cars on rent. In addition, Ola Luxury, Ola outstation and Ola shuttle is available that is offered in this business after proper registration for the business.
If you are a fitness expert then Click Here to know How you can get Rs. 17 lakhs per year by start a Gym fitness center business.
How much profit you can make from Ola Cab?
The earnings from the business depend on the number of bookings that you get for your car. After completion of a ride, the Ola Company will get 15 to 20 percent commission of your earnings. The percentage that the Ola Cab Company will get will be calculated by the Ola app. However, you can earn different when using different categories of Ola car.
When doing business with Ola Sedan cars and you can manage 5 to 15 bookings daily, you can earn rupees 1700 to 9000.

With Ola Prime class cars, with an average of 5 to 15 bookings, you can earn from rupees 1800 to 10000 rupees.

Even if you are doing business with Ola micro or mini, you have the option to take up to 50 bookings daily and this shall fetch you a good rupees 35000 weekly.
If the Ola Company is able to get better commission, they shall offer something in return. The bonus often comes in the form of the booking that you are able to manage during the peak hours from 12 AM to 2 PM and from 2 PM to 12 AM. By taking bookings during the peak hours, you are able to gather better bonus from the company. However, there is a chance that the bonus can vary from time to time.
Contact details of Ola Cab
The office contact detail of the Ola Cab Company is 3355-3355. One can also get in touch with Ola cabs via email address at atsupport@olacabs.com. Even, you can ring at the toll-free number 18004193535 to know about the details.
Important details about Ola Cab Business
There is not such limit that you can do business in Ola Cab with new car or old car. The only limit that has been set is the proper condition of the car that you wish to use in the business.

You will get an app from the Ola Company with internet connection. For this, the company can charge some fees of rupees 50 along with 1% TDS from your current account that you link with the car business.

In this business, you can collect additional charges included while travelling is toll tax, parking charge, state tax and the like from the customers. These are often not included in the billing charges.

As you register with your Ola cab business, you need not pay anything for the registration procedure. However, the procedure may take 3 to 3.5 hours for completion.
Other Articles –