How to Start Online Fitness Class Business, Personal Gym Trainer Course, Model, Plan, Software, Dance, Yoga
Due to the outbreak of the pandemic Coronavirus, common people are affected and the global economy is also at its worst. To prevent the spread of the virus from person to person, the Indian state government, including other major countries have announced a complete lockdown. Due to these schools, colleges, gyms, and other fitness centers have been closed down. This apart, government authorities has requested people to stay at home.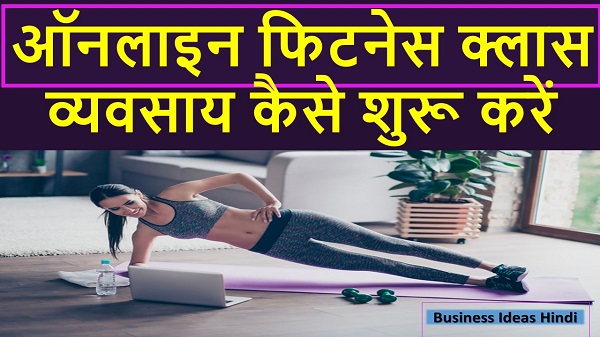 This lockdown process has been opted to maintain good health for the people. With this, people are concerned as they are unable to maintain fitness as they cannot visit the gym. Even the owners of the gym fitness centers are in great distress as they are unable to open the centers, and it is on the verge of being shut down for an uncertain period. However, the fitness masters can start the gym service online from the comfort of their home. For this, they have to become online trainers. Read the following part of the article to know better about how the online business can be started.
Click here to Know About How to Start an Air Conditioning Service Business, and get Rs upto 1 lakh.
Important tips to start an online business of gym trainer
Below is a rundown of tips that can help you earn money from home easily
Create videos – If you want to become a gym trainer, you need to have clients. At the beginning to have clients, it is important to create fitness videos and upload them on different social media platforms so that more viewers can get to know about your fitness service online. Apart from watching the videos, the clients will start to do the exercise at home. By this, they can maintain their health even at home. In this way, you can create a fitness YouTube channel and upload related videos on it. From this, you should try to have more subscribers for the YouTube channel. In this way, you can ask your subscriber to subscribe to your channel, or they can also download the videos for later use. So, like this, it is possible to earn up to rupees 50 thousand monthly. However, the money you earn can vary depending on the videos you upload and the number of viewers your channel has.
Use application – You can launch your fitness application and give information through it. Here, you can upload different types of exercises and let the viewer know about its benefits. Also, you can add options to download the video in exchange for paying money to you. So, you can gain knowledge about health and maintain fitness whereas, you can start to earn money from your home. Try to offer valuable tips to the viewers who are health conscious and also try to engage others if you wish to profit more from the online business at the comfort of your home. 
Create a video conference – Through the help of a video conference, you can guide your clients to maintain fitness at home. For good health, they need not visit the gym.
Make a website – For starting the gym business, it is better to start by creating a website. Even if you are not a website developer, try to get in touch with one who can help you create the website. Here, you have to provide information about fitness and different exercises. Through the videos uploaded on the website, you can guide the viewers on how to perform the exercises. By this, when you are offering the exercises to the viewers, make the paid option available, so that the viewers need to pay when they want to view the exercises posted on your website. In addition to this, set the options on the website, so that the viewers have to pay some money as soon as they login to the site. From this, you can start to earn money. 
Therefore, in this way, you can earn money by offering online gym services. You can continue with this service even in the time of the outbreak of the pandemic.
TikTok is an app from which you can earn daily from home, click here to know the specialty of it.
What are the ways to exercise without equipment via an online gym?
If you are planning to guide your viewers to choose an online gym service, you can guide them to get some basic set of equipment available online. With this, they can follow the videos you upload and start an online gym to maintain good health even during the lockdown period. In the videos you upload, you can ask the viewers to buy the equipment that is available for different ranges in the online store. 
Some alternative sources to earn money
Dance  :- Due to the coronavirus outbreak, the gym centers are closed, affecting the business. As an alternative, one can try dancing, which is a good option for physical exercise. It helps to keep people fit and entertained. You can also give other people tips on how to stay fit by starting online dance classes. By following this, people can try the fitness dance steps at their home. Therefore, one can try starting online dance classes and earn from it.
Zumba  :- Zumba is another great option to exercise. It is one of the difficult ways of dancing through which people can stay fit. With knowledge about Zumba, you can train others through online classes and earn money.
Aerobics :- Aerobics is another method of exercising and it can be done with music at home. By exercising aerobics, one can stay fit. So, even if people cannot get access to the gym equipment required to take part in online gym service, one can opt for aerobics through online service and earn money.
Martial Arts :-To stay fit, martial art is another option that people can try from their homes. It is also known as Karate. These are exercises that people learn to protect themselves. So, start training people online with martial arts and earn money from the comfort of home. This is another great alternative if you are unable to manage basic gym equipment at home.
Yoga  :- Yoga has gained popularity is many parts of different countries. Also, 21st June is celebrated as the International Yoga Day in many places. These days, to maintain fitness, different countries have started to engage in yoga practices. Therefore, you can opt for yoga when you cannot get online gym equipment. Here also, you can earn money by helping others practice yoga. 
So, without letting your gym business gets affected due to the spread of the pandemic, it is better to opt for the option of online gym business. In this regard, the above-said tips can help one to maintain the online business and earn profit even at the time of lockdown.
Other Articles –