After Single Use Plastic Ban New Business Opportunities in India
While the entire world is fighting for the climate change then India also has taken few steps to improve the situation. It has been proved that our biggest enemy is plastic, as it is a non-degradable element and extremely harmful and carcinogenic for humans and animals. So the prime minister of the country has taken the step to fulfill the dream of out 'Father of the Nation' of 'Clean India'. It is only possible by taking one step at a time and the first step is to ban usage of plastic. The Prime Minister of India has taken the initiative on the 150th anniversary of Mahatma Gandhi. At first, this step will create a little difficulty for the people who are related to plastic industry as the product is being used drastically in this country.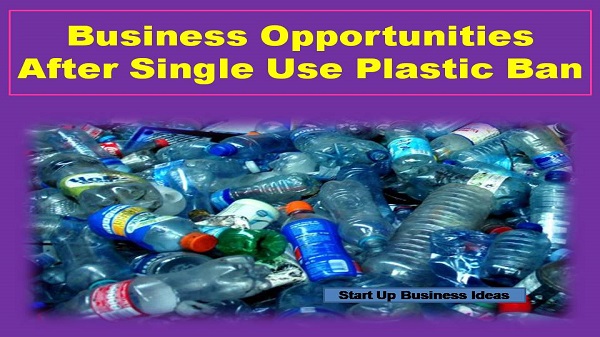 There are people who are associated with plastic trading and they might feel losing a job. This article will help them to deal with the situation; as, the article will give the few ideas for alternative business. It is essential to recycle products, and the article will give you some ideas to recycle the banned plastics so that people associated with this do not fall into difficulties.
What are Restricted Single Use Plastics? 
You need to know about the restrictions so that you can find the alternatives and the facts are given below.
The central government has put a list of plastic products and the type of plastic products is PET or PETE bottles that are used for drinking water. The PET bottle that is under 200ml is banned.

The mineral water pouches that are made of plastic.

The plastic bags that are being used in the local markets.

There are products like dishes, cups, plates, spoons, forks, bowls, containers, etc. that are made of polystyrene.

The plastic that is being used for packing foods in the hotels and plastic straws that are extensively used in the market.

There is plastic in the decorative items, and the government has put a restriction on the plastic as well.
The government is giving subsidy to start a small business, Click here to get benefits.
What could be the replacement of the single use plastic?
There is always a better alternative and you need to embrace the alternative in order to save the environment. Here are some alternatives that you can replace with plastic.
As there is a ban on 200 ml plastic bottle and you need a small bottle because it is easy to carry, so you can use steel bottle, ceramic bottle, or clay bottle for carrying water with you. There are bottles made of multi coated plastic, or plat-based plastic that will be not that much harmful both for your health and the environment.

When it comes to using bag I the market you can opt for bags you can reuse your old bags for carrying goods in the market. You can use the bags made of cloth, jute, canvas that will replace the plastic bags. This will help to replace the single use plastic bag in the market.

Instead of plastic made plates, glasses, bowls, and spoon you can use wooden or ceramic made plates and other things. You can even use stainless steel utensils that will help to replace the plastic usage.
New business opportunities to earn money
The article has given ideas regarding how you can avoid the usage of plastic. It is important to reduce the usage of single use plastic and the replacements are pretty good. But, those of you earn money through producing plastic products require alternative business ideas so that your earning does not stop. Here are some ideas that may help you to start an alternative business that will help you to meet your need.
The business of manufacturing multi coded plastic bottles – Even though the one-time use plastic is banned but there are other form of plastic and they are not that much harmful and cannot be destroyed after one use. So you can start manufacturing that kind of plastic products. If you start producing multi coated plastic bottle then you can earn some lucrative amount of money. If you already have a plastic factory where you used to produce single use plastic bags and bottles you can start the new business in that same factory. This will help to reduce the investment in your business as well.
Click here to Know about how to start straw manufacturing business and how to get benefit.
Porcelain Business – As the single use plastic is facing a ban so there is a huge opportunity to other products. People will incline to buy porcelain products and if you are a potter then it will be a lucrative opportunity for you to start a business where you will be making porcelain products. And it can be predicted that if you start this business you will be benefitted as the demand will increase gradually.

Producing sustainable papers cups and glasses – Sustainability is very important when it comes to saving the environment. If you are associated with plastic made products like plates, glass, spoon, etc. then you need to start producing paper made products as they will be much more disposable and will not pollute the environment. After the plastic ban it will be a good opportunity for you to keep running the business as it will help to generate profit as well.

Using the plant resources to make crockery – It will be another lucrative business idea amidst the plastic ban. You will be able to earn money through it. It is one of the best unconventional business ideas as well. There are several people are becoming vegan nowadays and this is the reason there is a chance of earning money and the product will be good as well. You will be able to produce Chovela, Banana, Peepal, Dona Pattal, glass and spoon etc. This kind of business will be considered as the micro investment and not only the products that are being made will be disposable and it will not harm the environment either. So, without being worried you can easily start a business.

Making wooden utensils – The best way to avoid plastic is by inclining towards biodegradable products like wooden utensils. The wooden utensils are not for one time use and you can manufacture them and sell them. You can make wooden plates, bowl, spoon, dishes, and many more. As the wooden utensils are easily reusable so people will spend money to buy it and use it even on regular basis. So you do not have to worry about your business's profit or loss as you will be able to earn decent amount of money by making it.
For women who are housewives, click here to find opportunities to start different types of businesses from home.
The business of giving steel utensils on rent – When an event happens then a large number of people are invited at that event. So normally catering guys serve food on plastic plates and later those non-biodegradable products pollute the environment. So now when the plastic is ban you can start a business to rent steel utensils as it would be a good business. The investment for the business will be one time and you can run the business for many years as stainless steel does not decay and you can continue give them on rent.

The business of making biodegradable plastic bags – Nothing can be best replacement of one time use plastic bag than biodegradable plastic bags. There are plastics in the market that you need to recycle as plastic in general does not dispose faster like any other organic products. If you are already related to plastic bag making that is one time use then you can start making biodegradable plastic bags in the same factory. This is a profitable way to earn money as this business will not face any ban in the future. If you want to start the business you need to invest in raw materials.
The government is providing various loan facilities for women entrepreneurs, click here to know.
The business of making reusable bags – Apart from biodegradable plastic bags you can start a business like reusable bags that will be good for environment. There is a high demand for reusable bags in the market so you start a business of it and manufacture reusable bags in different designs and different colors. You need to invest little money to buy raw materials for it.

Business of the product used for packaging – As there are the usage of plastics in the food packing industry so you can produce alternative that will help to replace that. You can start producing disposable bowls and many more containers that will replace the low quality plastic containers. If you start this business you will get orders from restaurants and hotels and soon your business will become a thriving one.
Click here to learn how the business of drinking water packaging can become a source of earning millions.
Business of colored paper skirting used for decoration – As it was said earlier that decoration requires a lot of plastic and government has put a ban on it; so, you can start making paper cuttings that will be used for decorating purposes. The paper cuttings will not look bad at all as there will be different colors and after the event the product will not contaminate the soil and water. If you start this business it will become successful as several people will start using it.
Conclusion
With this initiative taken by the government, new employment opportunities are expected to increase for the people. So if you are also looking for an employment, then start any of these businesses and with few days you will start earning. And by doing this you will be able to take part in the government's mission to save the climate. If you follow the above mentioned tips then it will be easier for you to find an alternative business.
Some Other Business Ideas: